LA MOISSON2024 | animation, watercolor on cut-paper | 15 minutes


When he arrived in the summer of 1934, J. M. Carrière described Old Mines as "a straggling, quiet little village in the foothills of the Missouri Ozarks, about sixty-five miles south of Saint Louis. Scattered all along the countryside, I found six hundred French-speaking families living in this community."

Carrière sought out the most accomplished storytellers and meticulously transcribed 73 folktales, documenting both the Creoles' worldview and the local French language, rapidly falling out of use. When researchers returned to the community in the 1970s, many of the stories Carrière collected had already faded from memory. Others left an indelible impression, such as Frank "Boy" Bourisaw's Le Petit Bœuf aux cornes d'or.

La Moisson (The Harvest) is an adaptation of this long story about the devil and his neighbor.

---

Supported by grants from ArtsKC Regional Arts Council, the
Charlotte Street Foundation and the Spencer Museum of Art, GLAS Animation, and the Puffin Foundation
---
---
C'EST BON D'VOUS DZIRE...
IT'S GOOD TO TELL YOU... Missouri's French Creoles captured their listeners' attention with these words. From this single point of departure, their eclectic folktales unfurl in a dazzling variety of directions. Legends of survival and cunning, humorous fantasies, and gruesome cautionary tales, the stories contain the wisdom and vitality of the culture.

Toujours Icitte is a feature-length documentary that explores the permeable boundaries between history and fiction within this community. Balancing video footage with animations of traditional folktales and historical episodes, this film examines the ways in which a culture is revealed and maintained by its stories.

By the time the forces of assimilation reached them in the 1920s, the Creoles concentrated around Old Mines, Missouri, had preserved their ancestors' language and customs for over 200 years. Today, the loss of the French language has eroded the community's collective memory and sense of identity, yet they persist. They have had to adapt, as they continue to identify with and celebrate their heritage.
THEY SAY « ON EST TOUJOURS ICITTE »
WE'RE STILL HERE.

TOUJOURS ICITTE: The Folklore of the Missouri French Creoles
is an upcoming, feature-length documentary about this vibrant community and the tales that they tell.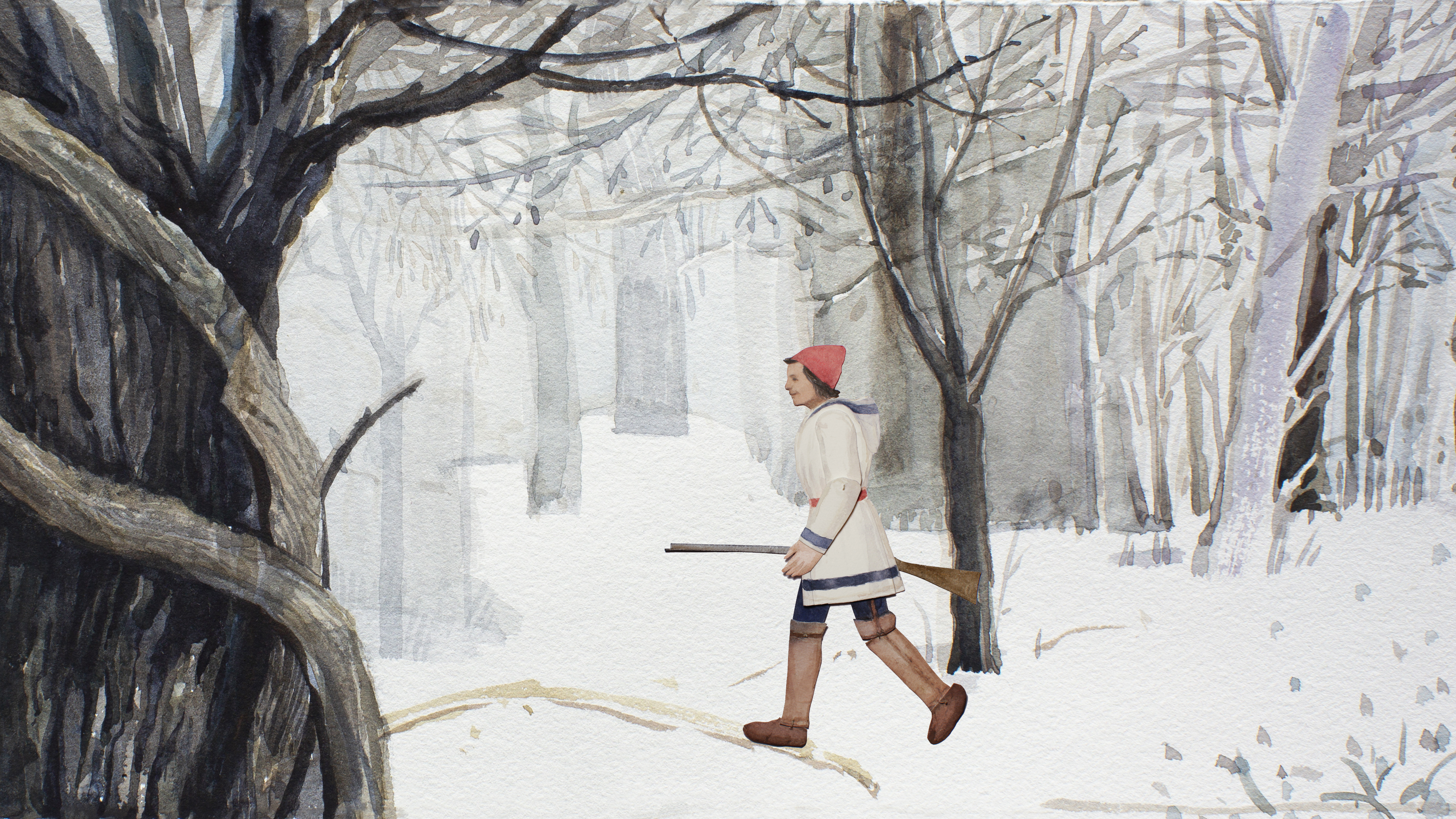 CHASSE GALERITE
2020 | animation, watercolor on cut-paper | 6:19

Chasse Galerite is a passionate hunter whose untamed desire often leads him into trouble. Set in the Illinois Country in the late 17th century, this humorous and imaginative folktale, cherished by Missouri's French Creole community, is told in the local dialect by one of its last native speakers.

Best Animation:
Verona International Film Festival

Best Animated Short:
Cinema on the Bayou Film Festival

Official Selection:
Annecy International Animation Film Festival
Boston Short Film Festival
Brussels Independent Film Festival
Cinema on the Bayou Film Festival
Fest Anča International Animation Festival
Festival International du Film sur l'Art
Francophone Short Films in Harlem
GIRAF 18
GLAS Animation Festival
St. Louis International Film Festival
Verona International Film Festival

Directed, with paintings, animation, and sound by Brian Hawkins.

Told by Pierre Aloysius Boyer on "French in MO, Old Mines"
CA5648, Adolf E. & Rebecca Schroeder Collection, State Historical Society of Missouri.


---
Supported by grants from ArtsKC Regional Arts Council
Charlotte Street Foundation and the Spencer Museum of Art
---
LA VIEILLE FEMME QUI LAVE

2020 | animation, watercolor on yupo | 2:42

This recording of Missouri French fiddlers Charlie Pashia and Joe Politte playing La Vieille Femme Qui Lave (The Irish Washerwoman) and Chinese Breakdown was made through a Missouri Friends of the Folk Arts (MFFA) fieldwork project funded by the National Endowment for the Arts.

It is included in this film thanks to the MFFA and Old Mines Area Historical Society (OMAHS). Special thanks also to Robert Lewis of Old Mines for sharing his childhood memories of his great-aunt Euphrosine Politte which inspired this short.
---
Supported by grants from ArtsKC Regional Arts Council
Charlotte Street Foundation and the Spencer Museum of Art
---
MURMURATIONS
2018 | a documentary in collaboration with Tanya Hartman | 25 minutes





Murmurations is a short documentary created by artists Tanya Hartman and Brian Hawkins. Through interviews and impressionistic images, the film explores the intricacies, beauties, and losses in the lives of refugee and migrant teenaged students enrolled in the English as a Second/Other Language program at Wichita East High School in Wichita, Kansas.

Unlike their elders, securely rooted in the culture of their country of origin, or their younger family members, rapidly assimilating into American culture, these young adults suddenly find themselves acting as translators and breadwinners for their families, as they struggle to determine how best to balance two ways of life.

The claustrophobic disjunction between vast inner lives and the limitations of an unfamiliar language creates a lyrical cadence that runs through the film, as words and phrases are cobbled together in unexpected, poetic ways to express longing, courage, and fear. This documentary is a tribute to its subjects' beauty and inventiveness, a ballad of longing for home and hope for the future.